SI-TRUCK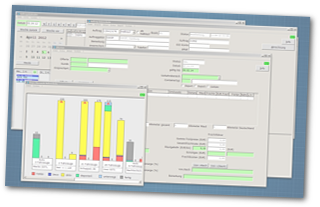 SI-TRUCK is a flexible modular ERP solution, specially developed for haulage operators in the field of container transport. SI-TRUCK reproduces and supports the complete business process, from order entry to credit and debit accounting.
The scope of services can be extended with additional modules, such as for customs connection, container clearing, track & trace, mobile vehicle terminals and order forwarding etc.
Existing systems can be integrated or individual interfaces created, such as interfaces to existing financial accounting solutions or interfaces to your clients. Statistics and evaluations (e.g. benefits for haulers) are provided to help you make corporate decisions.
Container Trucking
Multi-client capable, easy connection to several branches
Offer recording and management
Order recording, also automated
Vehicle, chassis and personnel administration
Subcontractor management
Manual and automatic scheduling
Order and process control
Truck booking system (TBS)
Integrated customs connection
Mobile trucker terminal
Printing of order documents and forms
Customer information via track & trace
Conditions ands contract management
Calculation of diesel surcharges
Recording of special and auxiliary services
Automated service billing, credit and debit
Invoice Register, invoice dispatch
Data transfer to financial counting systems (e.g. DATEV, Lexware)
Payment administration and dunning
Evaluations and statistics
Efficient work due to
Continuous flow of data in one system: from order entry to billing
Reduction of data input: no multiple capture for a single order
Identical database for container clearing, customs communication and billing
Avoiding errors by checking orders and validating data
Optimum use of resources
Reduction of empty runs and waiting times at terminals through container clearing
Support for tour combinations
Please do not hesitate to contact us if you have any questions, we look forward to hearing from you!